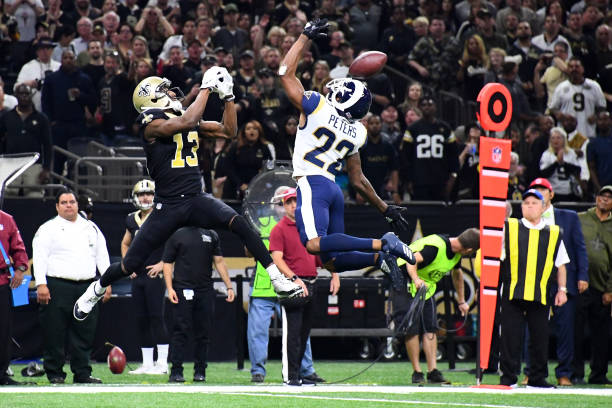 In the 2015 NFL draft, the New Orleans Saints drafted offensive lineman Andrus Peat with the 13th overall pick. Peat played his college ball at Stanford and was almost not selected by his current team, the Saints. Coach Sean Payton had his eyes on Peat but also another familiar face that the Saints will see this Sunday Los Angeles Rams starting cornerback Marcus Peters.
"He's someone that we grew really close to in the evaluation process. He's from the Bay Area. We used to recruit that area where he went to high school, and he's someone that we came close to drafting him. The year we took Peat one of our goals going into that draft was Peat or Peters. And that's the truth. So I have great respect for him" said Payton.
Marcus Peters was eventually selected with the 18th overall pick by the Kansas City Chiefs where Peters had eight interceptions and two touchdowns in his rookie season. After three seasons with the Chiefs, Peters was eventually traded last offseason to his current team the Los Angeles Rams. Peters will no doubt have his hands full this Sunday trying to cover Saints wide receivers in what should be a great game.
Peat, on the other hand, has not been able to complete a full season as a starter for the Saints but has developed into a nice addition to their offensive line. No matter the outcome this Sunday it looks as if the Saints made the better pick selecting Peat.
Although a cornerback duo of Marshon Lattimore and Peters does sound very intriguing, Peters has decreased in stats going from eight interceptions his rookie year to six, five, and now three interceptions this season. Either way this Sunday we should be in for a treat.
Be sure to follow us on Twitter: @GumboSports
Give us a like on Facebook: Gumbo Sports
Main Credit Image: Embed from Getty Images