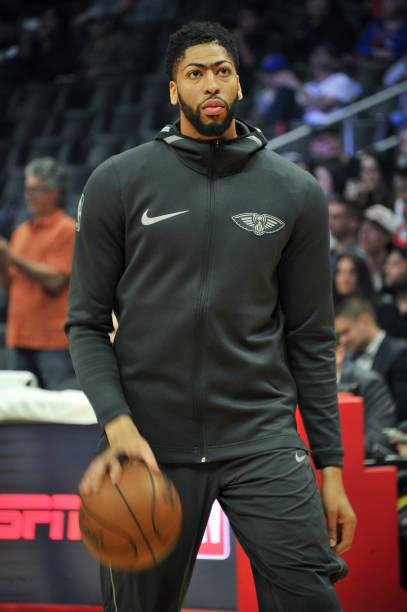 It is sad I even have to write this article. The Brow has requested a trade from the Pelicans, leaving Pelicans fans hopeless for the future. However, it's possible to look forward. AD already stated he wants to be on a team that can offer him a chance to win a championship, meaning the Pelicans may have slim pickings if they want to please Davis. Although no team can really give a trade package that would immediately constitute Davis, some teams can offer some young players with great potential. Thanks to NBA Trade Machine, fans have a way to work out potential trades based on NBA rules and teams' salary caps. Here are some trades that Dell Demps and the Pelicans front office could consider:
Los Angeles Lakers
The Los Angeles Lakers, thanks to LeBron James and their plentiful young talent, are the favorites to land AD. They have numerous young pieces that they could give the Pelicans and draft picks to go along with those players. The Pelicans would surely demand at least 3 out of the 5 of Lonzo Ball, Josh Hart, Brandon Ingram, Kyle Kuzma, and Ivica Zubac. The Pelicans would also probably want some draft picks to secure some future talent. The only problem is that all these young players have small contracts, meaning the Lakers would have to trade an older player making more money. Although the Lakers would like to keep Kuzma on the roster considering his great talent, it would be hard to resist Anthony Davis if it means parting with him. Here are two trades that could give the Pelicans a nice, young core and stay within the salary restrictions.
Lakers receive: Anthony Davis
Pelicans receive:  Lonzo Ball, Kyle Kuzma, Brandon Ingram, Kentavious Caldwell-Pope, and a 1st and 2nd round pick.
OR
Lakers receive: Anthony Davis
Pelicans receive: Lonzo Ball, Josh Hart, Brandon Ingram, Lance Stephenson, Ivica Zubac, and a draft pick.
Boston Celtics
The team that could arguably give the Pelicans the best return, the Boston Celtics are another favorite to land Davis. Although due to the "rose rule" restricting the Celtics from trading for Davis this season, they could wait until July 1st to get the trade done. The Celtics have great pieces in place to win a championship now, but they would have to lose some of these pieces in order to acquire AD. Jaylen Brown and Jayson Tatum are two of the best young players in the league, but Boston would have to part with one if not both of these talents to get Davis. New Orleans could land both young pieces and another solid player in Gordon Hayward in exchange for their superstar.
Celtics receive: Anthony Davis and Solomon Hill
Pelicans receive: Gordon Hayward, Jayson Tatum, Jaylen Brown, and multiple draft assets.
The Longshot: Philadelphia 76ers
The 76ers and their Big 3 of Joel Embiid, Ben Simmons, and Jimmy Butler have shown they are in win-now mode. They were willing to part with Robert Covington, a longtime 76er, and Dario Saric, a young and promising big man, to acquire Butler. Philly believes they are indeed in contention for a championship, and Anthony Davis may be the missing piece. The only problem is, Philly would have to trade one of the Big 3 to get Davis. They do not have any assets besides those players, and they wouldn't have enough cap space for all 4. Joel Embiid is untouchable, and Jimmy Butler is brand new to town. The move that would make the most sense if they genuinely want Davis would be to send Ben Simmons back to Louisiana, where he attended college. Although it is not a favorite target, if Philly truly trusts "the Process", an Embiid-Davis pairing would be one of the best pairings ever.
76ers receive: Anthony Davis
Pelicans receive: Ben Simmons, Wilson Chandler, Markelle Fultz, and 2021 Miami Heat 1st round pick.
The Underdogs: Toronto Raptors and Milwaukee Bucks
The Toronto Raptors have been a solid team for multiple years now. They haven't missed the playoffs since 2013. Yet somehow, they always seem to be missing something. This past offseason they traded for Kawhi Leonard, hoping he could push them over the hump. So far they have been playing fantastic, but securing Anthony Davis might make them too good to stop. While they lack big-name assets, they still have players to offer that New Orleans could consider.
Raptors receive: Anthony Davis
Pelicans receive: Fred VanVleet, OG Anunoby, Pascal Siakam, and Jonas Valanciunas
Milwaukee is the best team in the East right now in large part to their star Giannis Antetokounmpo. They are a top-2 team on both sides of the ball in the entire league. They also are great at 3-point shooting, rebounding, and are top-5 in assists. Basically, the Milwaukee Bucks are nearly unstoppable right now. Pairing Anthony Davis and Giannis, who actually have similar stats, build, and age, might put them over the top and bring a championship to Milwaukee. While they would have to trade key pieces to their offense, it would be hard to stop the slashing of Giannis along with the paint-dominance of AD.
Bucks receive: Anthony Davis
Pelicans receive Eric Bledsoe, Khris Middleton, Thon Maker, and a protected 1st round pick.
Follow me on Twitter and let me know what you think @therealbduhon
Follow Gumbo Sports on Twitter @gumbosports
Photo by Allen Berezovsky/Getty Images
Main Credit Image: Embed from Getty Images