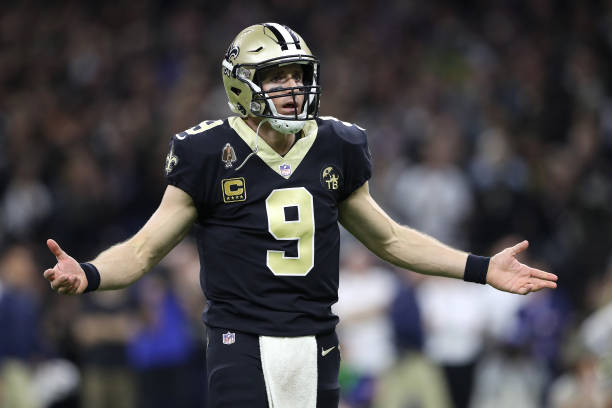 After the infamous no-call heard around the world, the New Orleans Saints fell to the Los Angeles Rams in the NFC Championship. For an organization and fan base that has dealt with so much playoff heartache with plays like Vernon Davis' last-second touchdown catch in 2012 and the Minnesota Miracle last season, both in the Divisional round, this game against the Rams stung extra hard. However, Saints' quarterback Drew Brees has offered a few words of advice to the fan base as everyone attempts to cope with the devastating loss.
"I think you have to with anything that happens, whether you're the one playing or you are the one so invested, which I know our fans are in our team and in the season. You can go one of two directions. You can either go in the tank, or you can find a way for this to come together for our good. That's the mindset I take, and I think that's the mindset we took last year after that loss in Minnesota. And I think you see the result of what happens when you take that approach. We turned that into good, we turned that into something positive, and it brought us together as a team and strengthened us. I hope that this will too".
One thing is for sure, the New Orleans Saints will be preparing this offseason to enter next season with one goal in mind. They want to show everyone that they truly belonged in the Super Bowl.
Be sure to follow me on Twitter: @a_forsythe1020
Also follow Gumbo Sports in Twitter: @GumboSports
Main Credit Image: Embed from Getty Images