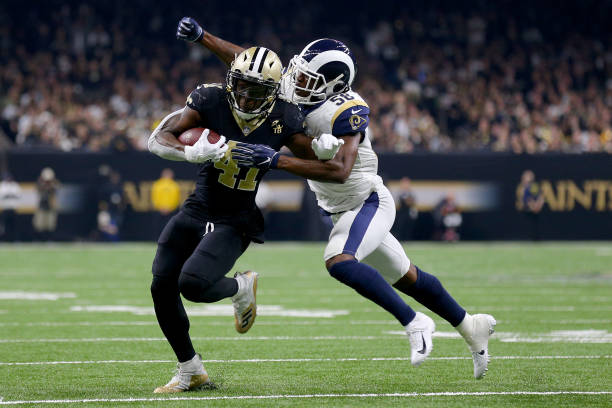 Wow…I am speechless. The referees just ruined a great game. You hate to see it. The Saints lost to the Rams 26-23 in overtime. Here are my studs and duds.
Stud: Alvin Kamara
The Saints couldn't get anything going today on the ground. They had no run game whatsoever. Where Alvin Kamara lacked in rushes, he made up for with receptions. The speedy back caught 11 passes for 97 yards. That was enough to lead the entire team including the WRs. He picked up first down after first down and tried to help his team win. That makes him a stud for today.
Dud: Mark Ingram
The hard-hitting back didn't do much on Sunday. Although he led the team in rushing, he had no touchdowns on nine carries and only 31 yards rushing. He couldn't get anything going in any way. He didn't receive for many yards, he didn't rush for many yards, and he simply couldn't do what it took to establish that run game.
Stud: Brandon Cooks
The former Saints WR had a great game. He caught only 7 passes 107 yards and no touchdowns. Although he couldn't find the end zone, he caught a long pass from Goff right before halftime to set up a crucial touchdown that would help them in the long run. The Rams passed all over the place today with 3 receivers with at least 50 yards receiving. He had a great game against his former team in one of the most important moments in his career.
Dud: Todd Gurley III
What the hell happened? Todd Gurley was barely in the game today. It looked like the 2017-18 MVP runner up was a BACKUP to CJ Anderson. Can you believe that? CJ Anderson took Todd Gurley's job. It was even said that he had no injuries. Who knows what Sean McVay was thinking? Clearly, it worked. Because Gurley rushed for only 10 yards and one touchdown AND two dropped passes and the Rams still won. Congrats to them.
Stud: Demario Davis
Davis came out strong against the Rams. He had a great tackle on the Rams first drive and he also had an interception off of the hands of Todd Gurley. He finished with nine tackles with five assists and an interception. Those nine tackles were enough to lead the entire team. Although they lost, the Saints defense played great today. They can go home proud knowing that they did their part. That brings me to my final dud.
Dud: THE REFEREES
This may have been one of the biggest screw jobs in the history of professional football. The Saints were looking to put the game away. They only needed one first down and the game was sealed. On third down inside the red zone Drew Brees fired a pass towards Tommylee Lewis. Then like a horror movie scene, Mark Barron comes out of nowhere and almost MURDERS Lewis. No flag. That. Is. RIDICULOUS! No way was a clean play. It was honestly one of the most critical plays in playoff history and the Refs messed up it. The entire crew for this game needs to be punished. Whether it's being fired, fined, or fought, I couldn't care less. They cost the Saints an opportunity to win a title. And that makes them the biggest duds of this year.
Be sure to follow me on Twitter: @adamlottsofmon1
Be sure to follow Gumbo Sports: @GumboSports
Main Credit Image:Embed from Getty Images