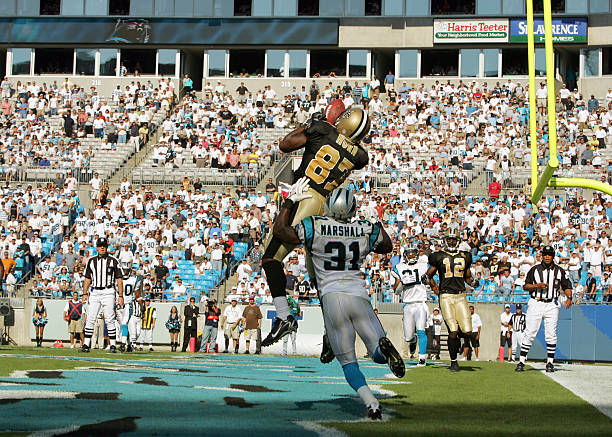 The New Orleans Saints have had one of the most explosive offenses in the league over the last thirteen years. However, despite their relatively recent offensive success, they've had quite a few dynamic wide receivers throughout their 51 years in existence. I chose four wide receivers to add to the all-time roster. These four players have left a lasting impact on the franchise, it's fans, and the entire league, as one of the chosen players is currently taking the NFL by storm.
Marques Colston
The Saints had a very successful NFL Draft in 2006 as they selected running back Reggie Bush, safety Roman Harper, and offensive linemen Jahri Evans and Zach Strief. With their final pick that year, the New Orleans Saints elected to draft a wide receiver with tight end-size from Hofstra by the name of Marques Colston. At 6'5″ Colston was projected by many to become a tight end at the professional level, but Colston was also projected to go undrafted.
Colston soon got his chance to prove all his doubters wrong. Colston showed the coaching staff what he was capable of during minicamp. The staff was so impressed that they felt comfortable thrusting Colston into a starting role as fellow wide receiver Donté Stallworth was soon traded away.
Colston's rookie season was a very productive one as he quickly became a favorite target of the Saints newly signed quarterback, Drew Brees. Colston led the team in both receiving yards (1,038) and receiving touchdowns (8) while also finishing second in receptions (70). Colston would also finish the season tied for second in voting for Offensive Rookie of the Year behind Tennessee Titans' quarterback Vince Young. However, Colston was named to the Pro Football Writers Association (PFWA) All-Rookie Team.
Colston continued to develop in his second year as he posted what would be the best numbers of his career. Colston led the team in receptions, receiving yards, and receiving touchdowns as he hauled in 98 catches for 1,202 yards and 11 touchdowns.
Two years later, Colston played a major role in the team's success which ultimately led to the franchise's first-ever Lombardi trophy. He once again led the team in receptions, receiving yards, and receiving touchdowns. Colston truly was a dominant force on an explosive offense.
Colston played his final game for the black and gold in 2015 as he was released by the organization during the following offseason.
Colston's career was nothing short of amazing as he finished with several career franchise records. He is the Saints' all-time leader in receiving yards (9,759), yards from scrimmage (9,766), receiving touchdowns (72), total touchdowns (72), and receptions (711).
Colston has not yet been enshrined in the New Orleans Saints' Hall of Fame, however, he is practically guaranteed a spot due to his significance in his team's success.
Joe Horn
Joe Horn spent 1992 and 1992 playing for Itawamba Community College in Fulton, Mississippi. There, he was able to haul in 54 catches for 878 yards and seven touchdowns during his two-year tenure. Horn was not qualified for Division I college football after his time at Itawamba, so he returned to his high school town of Fayetteville, North Carolina where he worked at a fast food restaurant and a furniture factory. Little did he know, Horn would eventually go from frying chicken to frying defenses in the NFL.
After two years in Fayetteville, Horn tried out for the CFL Baltimore Stallions. He was signed to their practice squad but he never played in a game for the team. He then spent a minor stint with the Shreveport Pirates. Then, on March 28, 1995, he signed with the Memphis Mad Dogs where he caught 71 receptions for 1,415. Not only did he catch a lot of footballs, but he also caught the attention of the NFL.
The Kansas City Chiefs selected Horn in the fifth round of the 1996 NFL Draft. However, Horn was mostly used on special teams and a reserve wide receiver.
In 2000, Horn's journey with the Saints began as he signed with the team in the offseason. Horn's first season with the Saints was a successful one as he caught 94 receptions for 1,340 yards and eight touchdowns on his way to his first ever pro bowl.
Joe Horn is perhaps most famously known for his infamous cell phone celebration. On December 14, 2003, the New Orleans Saints demolished the New York Giants largely due to the play of Horn. Joe Horn hauled in nine receptions for 133 yards and a franchise-record four touchdowns in one game. After scoring his second touchdown, Horn ran to the goal post, lifted the padding, and pulled out a cell phone which he had immediately used to make a phone call. The team received a 15-yard penalty for unsportsmanlike conduct because of this, however, Horn's spectacular performance and iconic celebration are forever etched in the memories of the Who Dat Nation.
In seven seasons with the New Orleans Saints, Horn eclipsed 1000 yards four times while being selected for the Pro Bowl four times as well. In total, Horn caught 523 passes for the New Orleans Saints, earning 7,622 yards and 50 touchdowns. Horn was inducted into the New Orleans Saints' Hall of Fame in 2010, emphasizing his greatness and all he meant to his team and city.
Eric Martin
Like fellow all-time great Marques Colston, Eric Martin was a seventh-round draft pick. The Saints selected the LSU product in the 1985 NFL Draft where he was the 27th receiver taken. Martin's career started off relatively slow as he only gained 522 yards on 35 catches.
Martin continued to develop as his numbers increased every season following his rookie year. In 1987, Martin played a crucial role in getting his team to their first-ever playoff appearance as he led the team in receiving yards with 778. Unfortunately, the Saints were eliminated in the Wildcard round by the Minnesota Vikings
The following year, Martin enjoyed his best season as a pro as he caught 85 receptions for 1,083 yards and seven touchdowns which was impressive enough to earn him a spot in the pro bowl. 1989 was a spectacular year for Martin as well as he hauled in 68 catches for 1,090 and eight touchdowns.
Martin once again eclipsed 1,000 yards in 1992. His next season would be his last with the Saints. Martin joined the Kansas City Chiefs where he would play his final professional season in 1994.
Martin's career with the New Orleans Saints was truly spectacular. His career stats with the Saints place him second in receptions (532) and receiving yards (7,854) while also ranking fourth in receiving touchdowns (48).
Eric Martin earned a spot in the New Orleans Saints' Hall of Fame in 1999, becoming only the second wide receiver in team history to earn that honor at that time.
Michael Thomas
Michael Thomas, a young, dynamic wide receiver coming out of Ohio State University, was selected by the New Orleans Saints in the second round of the 2016 NFL Draft. Five wide receivers were selected during the draft before the Saints chose Thomas.
Thomas burst onto the scene in his rookie campaign as he quickly became a top target for star quarterback Drew Brees. Thomas led the team in receptions with 92 which broke the franchise's rookie record. Thomas also set franchise rookie records for receiving yards (1,137) and touchdowns (9). Thomas was also selected to the PFWA All-Rookie Team
In his second season, Thomas earned the number one receiver role as the team traded away Brandin Cooks during the offseason. Thomas surpasses his rookie numbers, hauling in 104 receptions for 1,245 yards and five touchdowns. Thomas' success earned him Pro Bowl recognition.
In 2018, Thomas truly evolved into an unstoppable force as he lived up to his Twitter handle, "Can't Guard Mike". During his third season, Thomas broke several franchise records. During the team's week one matchup with the Tampa Bay Buccaneers, Thomas broke the franchise's record for receptions in a single game by hauling in 16 catches. Nearly two months later in week nine of the regular season, Thomas broke yet another record as he earned 211 receiving yards and a spot in the record books as the Saints defeated the Os Angeles Rams. Late in the 4th quarter of that game, Thomas caught a 75-yard touchdown after beating Rams' cornerback Marcus Peters. Thomas then celebrated by recreating Joe Horn's iconic cell phone celebration.
Thomas' 2018 was nothing short of remarkable as he broke franchise records for receptions (125) and receiving yards (1,405) in a single season. Thomas also added nine touchdowns to his growing resume. Thomas' 125 receptions led the league and allowed him to surpass fellow wide receivers Jarvis Landry and Odell Beckham Jr. for the most receptions in a player's first three seasons with 321. Thomas was voted to the Pro Bowl and also earned AP First-Team All-Pro honors as well as a spot on the PFWA All-NFL Team. Thomas is the only Saints' receiver to earn a spot on the AP First-Team All-Pro list.
Despite Thomas' regular season success, his playoff performances rise to another level. In three playoff games, Thomas has caught 27 receptions for 387 yards and three touchdowns including a monstrous performance against the Philadelphia Eagles in the 2019 Divisional round. In that game, Thomas broke another franchise record, this time for postseason receiving yards (171).
As previously mentioned, Thomas was the sixth wide receiver selected in the 2016 NFL Draft. Michael Thomas is the only wide receiver out of the first six selected to eclipse 1,000 yards in a single season.
Thomas current numbers with the Saints ranks him seventh in receptions, ninth in receiving yards, and 11th in receiving touchdowns among franchise leaders. If he continues on this dominant pace, Thomas will surely own all the top records for the New Orleans Saints and will find himself forever remembered in the New Orleans Saints' Hall of Fame
Be sure to follow me on Twitter: @a_forsythe1020
Also follow Gumbo Sports on Twitter: @GumboSports
Main Credit Image: Embed from Getty Images