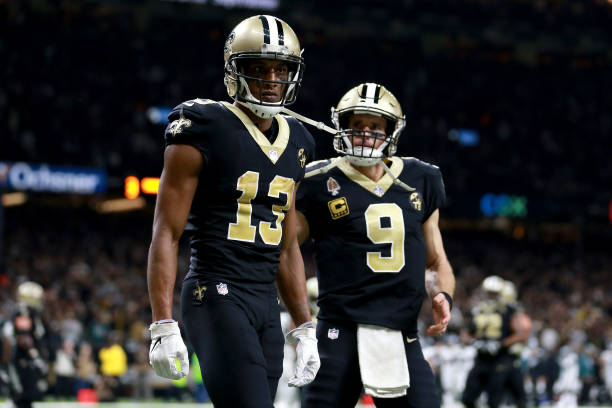 Michael Thomas consistently finds himself in the conversation of top wide receivers in the NFL. That is largely due in part to his tremendous success during the regular season. Thomas eclipsed 1,100 yards in each of his first three seasons. In 2018 Thomas earned 1,405 yards which was a franchise record. However, when playoff football arrives, Thomas turns into a truly unguardable beast.
In his first playoff game last season against the Carolina Panthers, Thomas displayed a phenomenal wild car performance as he caught eight of nine passes for 131 yards. In that game, Thomas averaged a remarkable 14.56 yards per target as well as an 88.9 catch percentage.
Thomas followed up that great showing with a dominant Divisional round matchup with the Minnesota Vikings. Thomas hauled in seven receptions for 85 yards and two touchdowns. Thomas' great game seemingly goes unnoticed as it was overshadowed by the Minnesota Miracle.
In Thomas next playoff game, he delivered yet another memorable divisional round performance as he shredded the Philadelphia Eagles. Thomas took his 12 receptions for 171 yards and one touchdown. In that game, Thomas set a single-game, franchise record for receiving yards in the postseason. Thomas was a huge key to the Saints' victory over the Eagles.
Thomas and the New Orleans Saints will be preparing for their Conference Championship matchup with the Los Angeles Rams this week as the Rams will be looking to exact revenge on the Saints for ending their undefeated streak during the regular season. If Thomas can deliver another great playoff performance, the Saints may be on their way to another Super Bowl.
Be sure to follow me on Twitter: @a_forsythe1020
Also follow Gumbo Sports on Twitter: @GumboSports
Main Credit Image: Embed from Getty Images