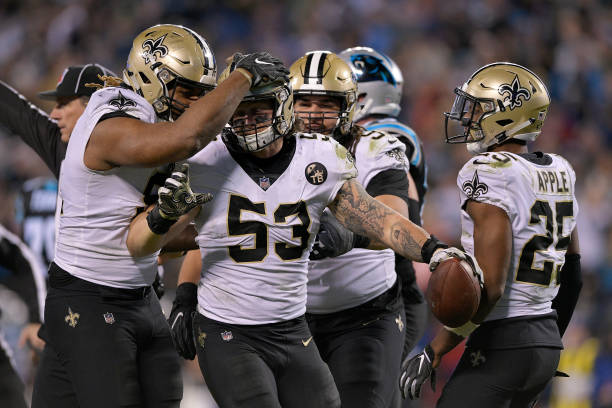 Last year, Saints fans saw glimpses of how good linebacker A.J. Klein was. This year, Klein showed more than just glimpses, he put it all on display. When most people think about the most improved Saints player, A.J. Klein would probably not be a name that immediately came to mind. More likely would be someone like Sheldon Rankins or Taysom Hill. However, Klein really took the next step into becoming a great linebacker for a solid Saints defense.
In the 2017-2018 season, Klein had a total of 54 tackles, comprising of 37 solo and 17 assisted tackles. He also had 6 tackles for loss and 3 quarterback hits. This season, Klein improved in every single one of those categories. Klein had a total of 70 tackles, comprised of 42 solo and 28 assisted. He then had 7 tackles for loss and 4 quarterback hits. He had 0 fumble recoveries in 2017, but had 2 in 2018, returning one of them for 17 yards.
The most impressive stat in A.J.'s improvement, though, was not something you can find on a box score or game log. Every year, Pro Football Focus gives players grades based on their performance that season. Last season, Klein received a grade of 48.2. This year, Klein completely obliterated that number, coming in with a 70.4 rating. That is a massive 22.2 point increase in rating.
Klein is a solid player that deserves some recognition. He is a great emotional and physical leader for a somewhat young Saints defense. He brings an intelligent veteran presence on and off the field. Klein improved vastly from last year and doesn't show signs of slowing down.
Be sure to follow me on Twitter @therealbduhon
Be sure to follow us on Twitter: @GumboSports
Main Credit Image: Embed from Getty Images