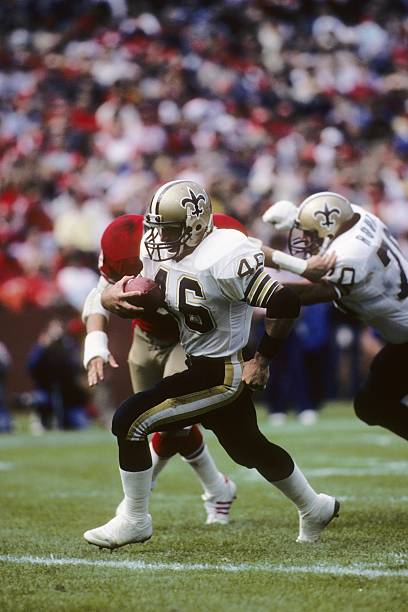 One of the most underrated positions in football is certainly the fullback. This player is responsible for a multitude of assignments including serving as a lead blocker for the running backs and running the ball up the middle in certain goal-line situations. In many ways, a team may find it difficult to have a successful offense without having a decent fullback on the field. Although it's not the flashiest position, it is certainly one of the most important on the gridiron. This New Orleans Saints great truly was a dynamic fullback in the NFL.
Hokie Gajan
Throughout his four years at Louisiana State University, Hokie Gajan ran the football 363 times for 1,563 yards and six touchdowns while also catching 31 receptions for 283 yards and two touchdowns. In his first two seasons at LSU, Gajan led the way for running back Charles Alexander as he gained a total of 2,858 rushing yards and 31 touchdowns.
The New Orleans Saints selected Gajan in the 10th round of the 1981 NFL Draft.
Gajan spent four years with the New Orleans Saints before suffering back to back knee injuries in 1986 and 1987. His best year was in 1984 when he ran the ball 102 times for 615 yards and five touchdowns. He also caught 35 reception for 288 yards and two touchdowns. Gajan also blocked for running back George Rogers as he gained over 900 yards on the ground. In that same year, Gajan led all NFL rushers (with 100 or more attempts) in yards gained per attempt. Gajan's career numbers include 1,873 scrimmage yards and 13 total touchdowns.
Following Gajan's retirement, he signed on as a scout for the New Orleans Saints. Then, in 2000, he started his third act with the team as he became a radio color commentator alongside Jim Henderson. Gajan used his colorful personality and his wealth of football knowledge to win the hearts of the Who Dat nation in the booth.
Hokie Gajan was diagnosed with a rare cancer known as liposarcoma in the fall of 2015. The disease would sadly take his life on April 11, 2016.
Gajan is known not only as a great fullback and great radio personality but also as one of the most iconic New Orleans Saints of all time.
Be sure to follow Adam Forsythe on Twitter: @a_forsythe1020
Also be sure to follow us on Twitter: @GumboSports
Main Credit ImageEmbed from Getty Images